This week we had the honour of attending the Longford Lecture where our very own Brendan Ross was awarded the 2022 Longford Prize. The Longford Prize celebrates the achievements of individuals, groups and organisations working in the field of prison reform.
The judges described this year's winners as being "beacons of hope in troubled times" and described their reasons for awarding Brendan this prestigious prize:
Our first joint winner Brendan Ross developed and leads the St Giles' Trust Peer Circles Project that provides employment services for people with multiple and complex needs. Around half are homeless. Brendan's commitment, growing out of his own lived experience, to the hardest to reach individuals in the most difficult situations truly transforms lives.
In his speech Brendan highlighted the work of the Peer Circles team and everyone at St Giles who goes above and beyond to help people build a positive future.  In accepting the award, Brendan spoke passionately about the team here at St Giles:
To come to work everyday and feel that you can be yourself is a gift and a privilege. I'm humbled but very aware that the work that got me here is teamwork, supportive managers and colleagues. Imagine working in an environment where every single person you work with is passionate.

I love my job.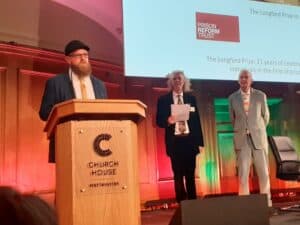 The 2022 award was presented by journalist and news anchor, Jon Snow. This year the judges awarded the prize jointly, and we are delighted that Brendan's award is shared with the fantastic Koestler Arts charity, who do fantastic work championing the art of prisoners.
Everyone at St Giles is so proud of Brendan and the whole peer circles team for this well-deserved award.
You can see more from Brendan Ross on Twitter.
You can read the latest evaluation of our Peer Circles work here.